Online Form Designer
Because designing online forms with 123FormBuilder is… a breeze
Use our online form designer to build and customize web forms with your brand and colors in less than 2 minutes. Build powerful online forms that are aesthetically pleasing, greatly customizable, and easy to use to collect leads, payments, and other data.
Try the 123FormBuilder form designer without needing coding skills!
Create a Beautiful Form Design for Every Purpose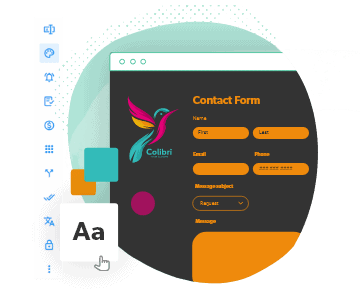 Remember the '90s and how ugly the internet was?
Well, thankfully, this is not the '90s anymore, and 123FormBuilder helps you make sure your online forms don't look like you want to send your respondents back in time.
This is not just a matter of aesthetics. It's a matter of conversions, brand, and powerful messages. And yes, your form design matters when it comes to all that. Of course it does!
Our form designer listens to you and provides you with all the features you need to create beautiful online custom forms.
Easy to use professional tool for building forms

I can quickly create all sorts of forms (both for events and for research), connect them with other services like Google Drive to gather data in a structured way, implement payment, extract graphical reports, notify respondents etc.

Easy to use professional tool for building forms

We are using this tool very frequently to gather data for our webinars, events, conferences and administrative aspects of the university. We were able to organize big international conferences with online payment. Also, we used their tool to register participants at contests, with powerful rules on forms and form elements. The team at 123FormBuilder is very helpful.

123FormBuilder is the best form builder I have used so far

123FormBuilder is the best form builder I have used so far. It has a sleek and intuitive interface and it's super easy to drag and drop fields. It also has a ton of features like conditional logic, custom validation rules, and password strength requirements. I recommend 123FormBuilder for anyone looking for a great form builder.123FormBuilder is the best form builder I have used so far. It has a sleek and intuitive interface and it's super easy to drag and drop fields. It also has a ton of features like conditional logic, custom validation rules, and password strength requirements. I recommend 123FormBuilder for anyone looking for a great form builder.

Great for large organizations or projects like ours

123FormBuilder is the best form builder to use in larger projects. The templates are extremely flexible, I can design my own unique forms with a variety of fields and unlimited submissions. Their sales team is prompt and the customer service team was always happy to answer any questions - thank you Karla for the help!
Everything is Customizable
Tired of jotting down form ideas you can't translate into pixels?
Well, rejoice, because bland digital forms are a thing of the past, yay!
With 123FormBuilder, what you see is what you get (WYSIWYG). And what you get is an endless array of form customization options that make your life easier, more colorful, and always in-line with your brand.
Every inch and pixel of our forms are customizable and our form designer makes it super-duper easy for you to adjust everything to perfection. Because your attentive eye deserves nothing less than flawlessness.
Padding
Style
Fonts
Field size
Background
Checkboxes
Corners
… They're ALL customizable, so the only limit you have to create gorgeous forms is your own creativity. Our form designer gives you the tool, you bring the skills — and voila, you've got custom forms that make your heart beat a little faster.
Online custom forms that speak to humans
People are sick and tired of filling out robotic forms. Regardless of what your use-case may be, your forms need to say something that will make it attractive for users to actually fill all those fields. Surveys, quizzes, Likert scales, lead magnet forms — you name it. They all need a little sparkle to be actually enticing for, you know, humans.
Aside from pretty form design options, 123FormBuilder also provides you with form and field customization options that just make the entire user experience… more human:
Conditional logic that helps you display only fields that are relevant to every user
Formatting your form to display one question per page, like in an actual normal person to person conversation
Customizable email notifications to help you make the conversation go on
Everything you need to create forms with a soul thanks to 123FormBuilder.
Oh, and did we mention it takes minutes to set all this up?
Oh, the times we're living in! 20 years ago the nice buttons always led to spammy sites, these days, they open the door to value.
Use any color or shape you need to make sure your form buttons stand out on the page by customizing them so that they look inviting.
Like, I-cannot-not-click-this-button-inviting.
Every field type you might need
It doesn't matter what kind of form you want to create or what its purpose may be.
With 123FormBuilder, you can make any kind of online form you could ever imagine. We give you all the field types you need, you take them and use them to create meaningful data collection receptacles (forms).
Name, Email, Address, Phone Number, Multiple-Choice, Single-Choice, Drop Down fields —- EVERYTHING you will ever need in one intuitive, smooth, and painless Dashboard.
And it's all drag and drop, all in minutes, all in just three simple steps
Drag the fields you need into the form and drop 'em there
Customize them to fit your brand and message
Publish the form and let submissions flow
We're not called 123FormBuilder for nothing! We really are the easiest to use form builder on the market (and, psst, by the way, if anyone tells you they're creating forms as easy as 1-2-3, they took it from us, we've been saying that since 2008).
Ready-made form designer themes
Running out of time?
Grab one of the 1,900+ form templates we offer and use one of our ready-made form designer themes on it?
It's easy and it looks really gorgeous in no time. Our color themes and form designs are made for professionals who are short on time.
Because you know what's even better than pretty forms?
Forms that are both beautiful and efficient. Just sayin'.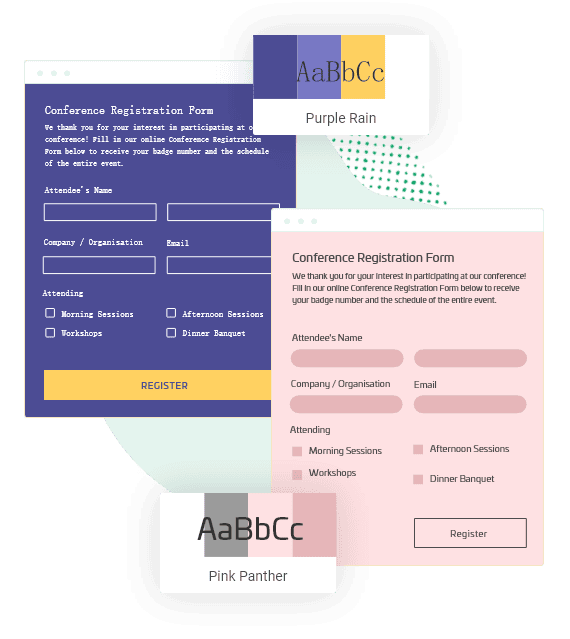 CSS & HTML styling for the little details
Want to go super-duper in-depth with your form designs? Worry not.
CSS & HTML styling are available in the 123 Form Designer. You don't have to use them, but if you want to make sure everything is 100% matchy-matchy with your brand and messaging, you can totally code it up a little. Sometimes you just have to push a few pixels.
Mobile-responsive custom forms
As we said, it's not the '90s anymore, and that means people fill in forms on the go. Standing in line at the grocery store, waiting for the kids to come out from school, on their lunch break at work, on top of mountains, or lying on a sunny beach in the middle of December.
People are crazy mobile these days, and so your custom forms need to be crazy mobile too.
Which means you're in the right place because 123 forms are all mobile-responsive by default. Really, test it out with a free account if you don't believe us!
Connect Your Attractive Forms with Anything
Our forms are not just a pretty face.
They are extremely smart too, a full-package that comes with more than 80 integrations.
What this means, in short, is that you can connect your forms with any kind of tool you might use. Mailchimp, Google Drive, Dropbox, Wix, Shopify, payment processors like PayPal — we got it all.
Oh, and by the way, if by any chance you can't find your favorite tools in our list of integrations, remember you can always use Zapier to link your form data and your favorite whatchamacallit.
Because time is precious and copy/pasting is a thing of the past.
Collect Data.
Beautifully & Securely
There's no point in building beautiful forms if they're all data-leaky and easy to spam, right?
123FormBuilder is the exact opposite of that. We have made safety the center of our entire business model, to make sure our customers and their form respondents are shielded from digital harm.
We are:
GDPR friendly 100% (yep, we got servers in the EU if that's what you need)
HIPAA compliant (yep, that means the US healthcare system trusts us)
ISO 9001 and ISO 27001 compliant (yep, that means, we are regularly audited for our security compliance measures)
CAPTCHA-friendly (yep, we made it a field you can just drag and drop)
Anti-spamming aficionados (yep, you can take all security measures to make sure you aren't flooded with spam responses)
Code-free. You can use the form designer to design eye-catching forms without needing any coding experience.
We are safe. So safe you can trust us as your lifeline in an ocean of muddy-watered data evilness.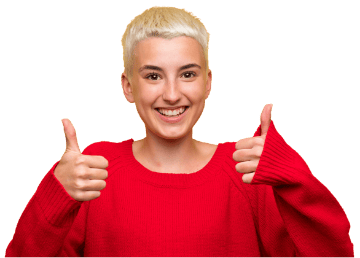 Form Designer – Frequently Asked Questions
We'd love to chat about your form designing needs. Check the frequently asked questions below or contact us for tips and ways to improve your form design on 123FormBuilder.
What is a Form Designer?
A form designer is a drag-and-drop tool within a visual interface that enables people to build forms and customize their appearance including field dimensions, font colors, layout size, shapes, corners, and columns. A form designer is similar to a form builder but includes options to personalize the look of the form without necessarily requesting CSS knowledge.
How do I make my forms look professional?
To make your forms look professional, start with UX best practices for your form design. This includes writing a compelling headline, using the correct field type for each question, placing labels appropriately, using columns responsibly, and ensuring mobile responsiveness.
What is Form Designer in Visual Basic?
Form Designer in Visual Basic is a product by Microsoft that provides the features to build Windows Forms applications that you can use and embed in your Visual Basic code.
How do I design a form?
To design a form in code, you need CSS skills. However, with a form designer like 123FormBuilder, you don't need coding at all. Sign up for a web form builder account, and use the Themes section to customize the form's design in any way you see fit using a few clicks.