Square Forms, Easier than Ever
Because Getting Paid Should Always be Easy
Square payment forms are it. The definition of simplicity, even more so when integrated with the easiest to use form builder in the galaxy: 123FormBuilder.
If you want to collect payments for your eCommerce, NGO, or non-profit organization, you can start easily in just a few minutes with a Square online payment form.
$63 million were processed through 123FormBuilder Square forms in 2019.
Are you ready to get your money too?
Build Square Forms Any Way You Need Them
123FormBuilder is so straightforward and user-friendly that you will definitely love it!
Regardless of whether you want an order form creator to build an order form for your T-shirt business or a fundraiser tool to build a donation form for your non-profit, you can rest assured that 123FormBuilder will help you do this in three pain-free steps:
Select your template from the 1,900+ templates in our gallery OR just build your form from scratch (simply drag and drop fields into the form, that's all)
Customize your form with conditional logic, email notifications, personalized design, and your payment method of choice (Square, for example).
Publish the form and let that 💲 cash flow in.
That's all! Receive payments with Square forms IN MINUTES ⏰
Enable the Square Payment Integration in Less than 10 Seconds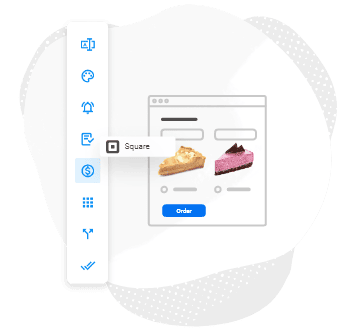 Setting up a Square form is the easiest thing you've ever done! Easier than reading this page, even!
Just set up your form, add products and prices to it via Multiple-Choice fields, and then go to "Payments".
Select "Square", connect your Square account, and you're done.
You are now officially ready to receive Square payments on your online forms. Yay! 🎉
Conditional Logic for User-Friendly Square Order Forms
We are form builders to the core, and that means there's nothing we love more than logic.
Conditional logic, that is.
This near magical feature allows you to create forms that are ultra-responsive and adaptable. So, for example, if you sell T-shirts, button-downs, and skirts and your customer is only interested in one of those, they can just click and see only the options that interest them.
Or, for example, if your non-profit runs four different campaigns, your donors can select the campaign they'd like to contribute to and they will be given the necessary details just for that project.
It takes seconds to set up a conditional logic rule in 123FormBuilder, and you only need to click a couple of buttons. Totally worth it!
Stay in Touch with Your Customers and Donors
You don't want your Square payment forms to be a hit and run.
You want them to be the beginning of a beautiful friendship between you and your customers or donors.
That's why, we made it easy for you to stay in touch via email notifications initiated by your Square forms.
Want to send your customers an email as soon as their payment is received? Set up an email notification for that. Want to send them a certificate or maybe just a copy of their form submission as a PDF? Set up an email notification for that. Want to thank them for their purchase or donation?
To set it up, just:
Go to the "Notifications" section of your 123FormBuilder account and set up the recipient ("Email" for the form submitter's email)
Choose when the email will go through and what exactly it will include
Personalize it with names, addresses, form ID, and your desired email attachments.
And that's pretty much it. You set it up once, and it will do its job for every payment form with Square that moves through your system.
Design Square-integrated Order Forms that Look Good. Really Good
That whole thing about your Square forms being a relationship between you and your buyers?
Yep. You are going to want your Square order forms and donation forms to look good, too.After all, you wouldn't just show up on your first date with your hair ravished, wearing a mustard-stained T-shirt, and your toes peeking out through your shoes, right?
No worries, 123 forms are nothing like that. On the contrary! We have made it super-duper-easy for you to beautify your forms, polish them, and make them all matchy-matchy with your brand and messaging.
Choose your own colors, fonts, adjust field designs, create enticing buttons, and make your forms look prim and proper for their date with your customers and donors. 💖
Add Tax and Price Calculations, Coupon Codes, & Discounts
Not only are our Square forms adaptable, good-looking, and totally the kind of forms you'd take home to your parents, but they are also super-smart.
Like, for example, did you know you can add tax and price calculations, coupon codes, and discounts to your payment forms? And it takes, you guessed it, SECONDS to do it?
Just set up a Multiple-Choice field by dragging and dropping it in the form, click on this field in the form, and then go to "Value and Payments" in the left-hand bar. Easy-peasy discount squeezy! 🤑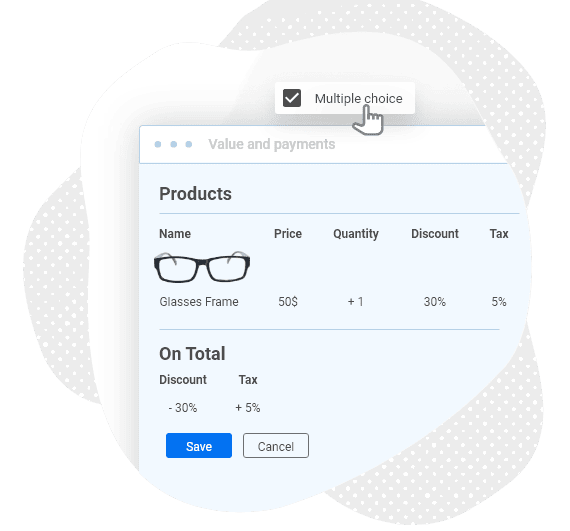 1900+ Templates at Your Fingertips ✋🤚
Not in the mood to create Square forms from scratch? Maybe just running out of time? Or maybe you just want things to be REALLY easy?
Pick up one of our form templates. We have 1900+ of them, all ready to be used. Take them as you find them or personalize them to your needs, add Square payments to them, and then just publish them wherever you need them: as a link via email or Whatsapp, on Facebook, or directly embedded on your site.
Take your pick from nearly 2000 form templates ready to use, including:
Connect Your Square Payment Forms and Your Tools In Seconds
Whether we like it or not, online forms do not work in their own magic bubble. 99.99% of the time, they are data collection tools — and that means you need your form-collected data to move smoothly through your systems and tools and safely land where you want it.
123FormBuilder makes this super-easy with more than 80 direct form integrations, like:
…and more, many, many more fully integrated tools that make data transfer an automatic, painless process. No more copy pasting, no more errors. Just a smooth flow of information from your forms to your tools.
And oh, by the way, if you don't see your favorite tool listed on our Integrations page, no worries, we're also integrated with Zapier, which basically means you have THOUSANDS of tools you can easily connect with in seconds.
Because time is a valuable thing and your Square forms should work smoothly every time, regardless of what other tools your business or non-profit might use.
More than 9K Square Forms were created in 123FormBuilder last year by thousands of businesses, healthcare providers, and non-profit organizations.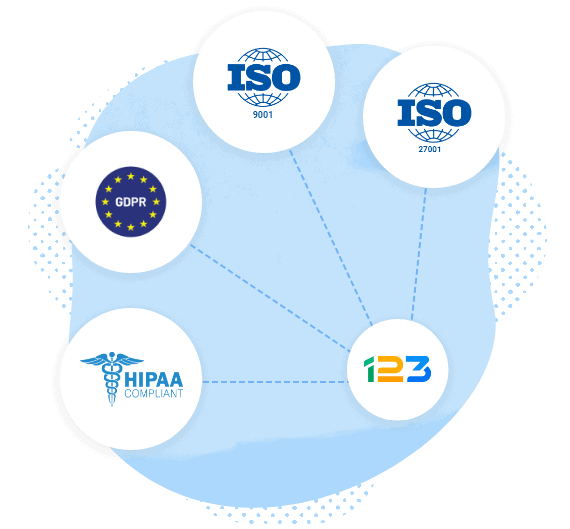 Collect Payments & Data. Securely. Super-Securely
Money and data are two of the single most sensitive things in the world.
We get that.
In fact, we have made it our motto — and data security, the core of our business.
We have taken all measures of security to make sure your forms are ultra-mega-uber secure.
We are:
100% GDPR compliant (including servers in the EU upon request)
HIPAA compliant
ISO 9001 certified
ISO 27001 certified
We regularly scan all our systems, we protect them in every way humanly (and robotly) possible, and we consistently train our employees to uphold the highest standards of security we abide by.
No leaks, no spam, no data loss. Just security.