126+ Templates
Application forms
Paper application forms are dead. They're bad for the environment and a waste of your time and energy. Online application forms can fix these issues and help you collect data as easy as, well, 1, 2, 3.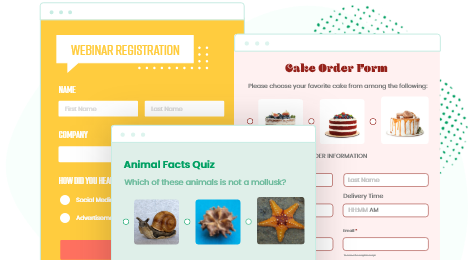 Other Application forms
Online application forms at your fingertips
Regardless of whether you need a job application form, a scholarship application form, a loan application form, or a housing application form, you want it to be perfect. You want it to look good, be functional, and help you collect the essential data you need.
123 Form Builder application forms are easy to create. You can grab one of the application form templates on this page, customize it to your needs and then publish it, or you can create a quick form from scratch in three simple steps. 
Click on "New Form" in your 123 Form Builder Dashboard. 

Add the fields you need, customize a Thank You page, add conditional logic, personalize the form with your chosen design, and/or set up an email notification system. 

Publish it anywhere: your site, social media, in an email, or anywhere online. 
That's it. Easy, no fuss, no headaches, no wrist pain from all the clicking and coding. Choose, drag, drop, and release your application form into the wilderness of the world wide web.
Frequently Asked Questions
What are application forms?
Application forms are data collection tools used by companies, educational institutions, and organizations to collect information from potential recruits, customers, and students.
What is the purpose of an application form?
The main purpose of an application form is to help recruiters and organizations collect information about their applicants (and make it easier for them to actually send their application through).
How to create an application form?
Oh, that's the easiest part! Just grab one of the 123 Form Builder application form templates and customize it with your design, field names, and email notification system. It takes a couple of minutes to do this, and then you can just publish your form on your website, social media feed, or anywhere else with a simple link. We've got an extended guide on how to create your application form with our form builder.
What to include in an application form?
You want to collect all the essential information you need from your applicants: their name, contact details, as well as what specific position or program they are applying for. You can even include an attachment field to your 123 application form (and ask applicants to submit their resumes, for example).
Depending on the specific type of application form you're creating (job application, scholarship application, service request application, etc), you might also want to include specific fields. For example, you could include fields that ask the submitter to talk about their relevant work experience or the reasons they are applying for a scholarship.