85+ Templates
Consent forms
From gathering model releases to marketing data, parental permissions, and medical consent, these forms are essential in a wide range of circumstances.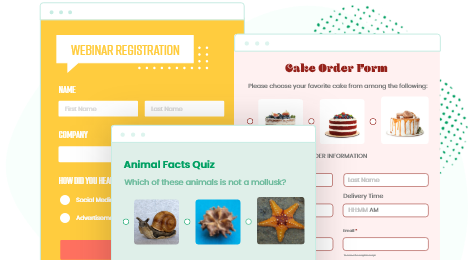 Frequently Asked Questions
What is a consent form?
A consent form is a signed document meant to show the explicit consent of a party to be part of a research project, medical study, or similar activity. Consent forms are legally binding and they are extremely important for companies, educational institutions, and nonprofit organizations because having these signatures enables them to proceed with their activities in full certainty that the other party has been informed of everything involved.
A consent form is a document in which someone (a person or entity) is legally submitting their consent for them (or the person/ entity in their care) to be part of a specific activity (such as medical research, marketing research, a school activity, and so on).
How to create a consent form?
You can create a consent form in 123 Form Builder. You can either choose a consent form template from the wide range we have in our collection or you can create one from scratch using our drag-and-drop form builder.
Creating a consent form with 123 Form Builder is extremely easy: 
Choose a template from the consent form templates collection or create your own online consent form from scratch (just drag and drop fields into your form)

Personalize it with your fields, names, design, conditional logic, and email notifications. 

Publish it anywhere: on your site, on social media, or just send it via email. 
Why use a consent form?
Consent forms are used in situations where you need a legally binding contract between you and another party, in which they express their explicit consent to be part of an activity. This document is important in protecting your rights, as well as those of the other party.
What to include in a consent form?
What is included on a consent form varies according to the specific situation you are in. However, a signature field, a name field, as well as details about the activity, a release of activity, and terms and conditions (where applicable) are all quite standard in consent forms of all kinds.
A consent form should always include: 
Terms and conditions (where this is the case, such as in the case of a data collection consent form for GDPR)
Are these online consent forms legally binding?
Yes, they are legally binding. However, you are advised to check with the legislation where you live and make sure eSignatures are accepted as legally binding (they are in the United States of America, for example).