The Poll Maker You've Been Looking For
Create polls people will actually want to answer
Want to ask your customers about their favorite cat breed? Your employees about their favorite type of coffee? Your Facebook followership about what to post next on your blog?
We got you. 123 Form Builder is the free poll maker you've dreamed of all your life. OK, maybe not all your life, but since you typed "poll maker" into Google (are we on the first page yet?)
Build

Online Polls For Free
Looking for a free poll maker that is easy to use and comes with a bunch of awesome features you won't find with other online poll makers?
Pinch yourself as much as you want, for this is not a dream. It is real life and you have found the answer!
Our poll builder allows you to collect votes and opinions easily. Pick your answers, pull them in our form builder, and let the casting of the votes roll in.
As easy as 1, 2, 3.
How to Make a Free Online Poll in 3 Steps
Our poll maker's motto is "make it so easy they become addicted to it and keep on wanting to make forms and polls and surveys for the rest of their lives because it's actually fun". It's wordy, but effective.
Or, the short version, "forms as easy as 1, 2, 3" (this is the motto we put on t-shirts).
So how do you make a free online poll easily?
Go to your 123 Form Builder dashboard, pick an online poll template, or create your form from scratch.
Customize your poll with your own questions, images, and respondent engagement techniques.
Publish your online poll.
See? Piece-of-cake easy. (And no not Battenburg, proper actual cake)
Take ALL the Online Poll Templates You Need
We're form and poll template hoarders. Back off Marie Kondo!!This is not about clutter, it's about offering people what they need: the easiest, fastest, most enjoyable way to build forms and surveys!
If you're looking for a ready-made online poll template to start with, you have plenty of options:
Looking for Likert scale surveys or basic online polls? We got 'em. Grab 'em and use 'em in minutes.
Add Your Own Images & Voting Options to Your Online Poll
Online polls should look pretty. People like pretty. Our teenage years have taught us this.
Because we know you want to keep customers, employees, and respondents engaged, we're giving you all the options you need to pretty up your online polls by adding images and items to them. Make them gorgeous, brand them with your colors and logo, and create polls people really, genuinely want to answer.
123 form building magic!
Decide How the Voting Works
With 123 Form Builder online polls, you choose where your poll is published. You choose when the voting ends. And most importantly, you choose what questions are displayed based on your respondents' answers.
That little piece of wizardry is possible thanks to some called conditional logic. This means that you can choose to make some fields visible only when your respondents give specific answers. You want it on your polls right? Who wouldn't?
This makes your online polls actually engaging and responsive, and it's all a matter of minutes to set everything up and release your poll questions into cyberspace!
Connect

Your Polls with Your Tools
Connect with 80+ Popular Software Tools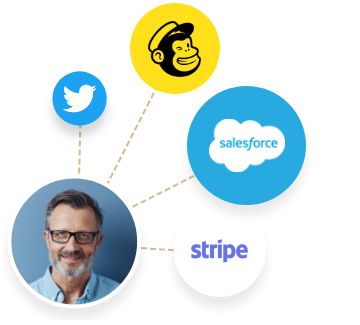 We like staying connected. Like, super-connected. Like, we're connected to 80+ of the most popular tools on the interwebs. And you can really push your poll responses anywhere you need. And, overall, we love staying in touch (which is precisely why we have a super cool notification system you can set up to stay in touch with your respondents too).
Publish Your Polls Anywhere
When we say "anywhere", we mean it. OK, only as long as it's in the digital space and on Earth, but other than that, anywhere.
Like, for example:
Publish your poll on Facebook with our neat Facebook integration
Share your Poll in Whatsapp to collect quick opinions from your students' parents or about the next company team building
Embed your poll on your website
Share your poll via email
… and any other way you might think of.
Connect Poll Votes to Any Kind of Tool
Project management tools, CMS tools, CRM tools, email marketing tools, we got 'em and, together with them, we got your back. No more endless copy pasting, no more human errors, no more moving the data from one tool to another. Click, click, bam! Data magic all over the place!
Some of our integration examples include:
Everything you want, everything you need, you got it. With 123 Form Builder. Because we just love you and your tools.
Stay In Touch with Email Notifications
You don't just ask people questions and then disappear into thin digital air. You want to stay in touch with them. Like, for example, you can:
Send poll results
Share poll answers with respondents
Send email newsletters
Send more polls in the future
Setting up an email notification system is super-easy. Just add an "Email" field to your poll or form and then go to "Notifications" and set up a new email notification workflow. You can choose when the email goes out, you can customize it with the respondent's personal details, and you can even attach PDF files to your emails.
So easy even a monkey could doodle it!
Collect

Votes and Data Easily
Essentially, forms and polls are data collection tools. The reason you're putting them out there is that you want to collect information and opinions. And we're really, really good at making this whole process 1,2,3-easy,
It really doesn't get easier than grabbing a template, customizing it, publishing it, and allowing the data to flow to one of your other tools, automatically.
Create Reports from Your Polls
Collecting data is one thing, but did you know you could turn your pretty online polls into pretty reports, in minutes?
Creating reports has never been this easy. You literally can do this with three clicks! Go to 123 Form Builder's "Reports" section in your dashboard and customize how you present that data.
The bosses upstairs will love the reports, your teammates will find it easy to interpret the data, and you will love how fast and easy it is to pull everything together.
Safe. So Safe It's Bulletproof
Yes, our forms and polls are super easy to make, but just because a kid could do it, it doesn't mean we take anything about data collection to be a child's game.
We know data security is crucial. So we have made our forms bulletproof from every point of view. In fact, we've got the paperwork and acronyms to prove it:
GDPR compliant
HIPAA compliant
ISO 27001 certified
ISO 9001 certified
We are 100% GDPR-compliant (and yes, this includes storing data on EU servers as well)
All our forms are HTPPS-secure
You can add CAPTCHA fields to your forms
You can limit the number of submissions from an IP to avoid spam
We have taken every possible measure to make sure your forms and your data are secure. Always.
Looking for a form template?
1900+ of them are waiting for you: