Simply the Best Shopify Form Builder
Always up-to-date. Always supporting you.
eCommerce is like a love story between buyers and sellers, and here at 123 Form Builder, we're all in for any good romance.
Shopify order forms, surveys, Shopify custom registration forms, lead generation forms – you name it, we have it. And it only takes 1,2,3 steps to build a form perfectly integrated into your Shopify store.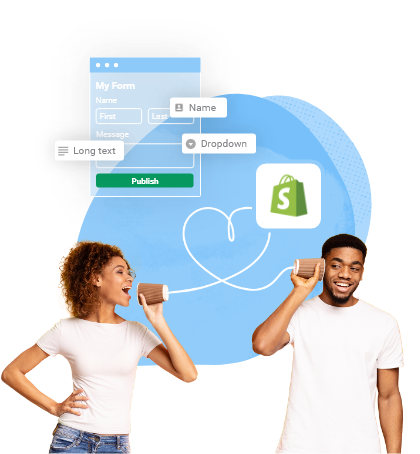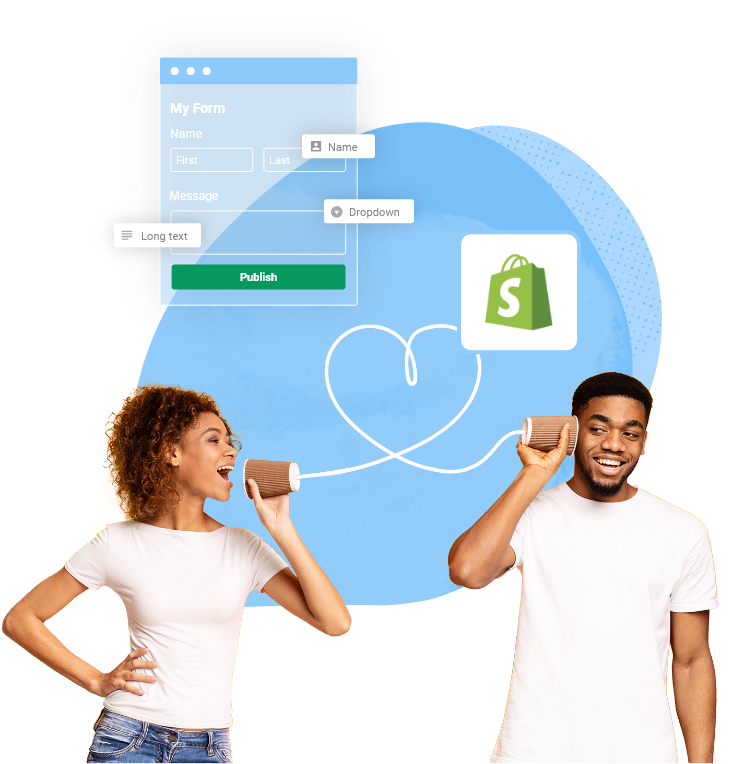 As seen on:




Build Any Shopify Form You Need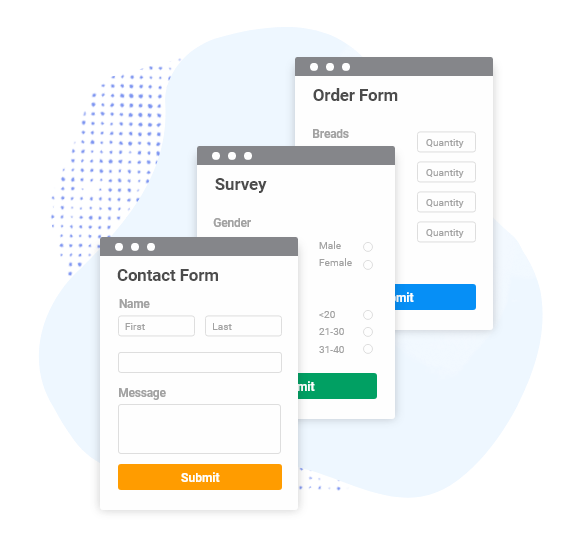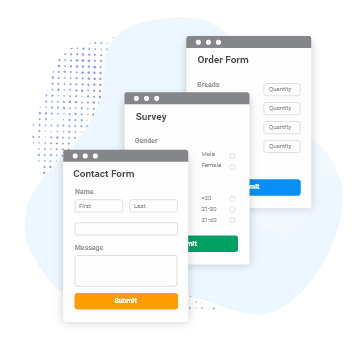 Want to add a contact form to your Shopify site?
Or maybe looking for a Shopify order form app that will allow you to collect that sweet cha-ching money your eCommerce needs?
Oh, or maybe you want to create a quick survey to learn what goes through your customers' minds! (It's faster than learning Jedi mind-reading)
No worries. 123 Form Builder is the best Shopify form builder precisely because it enables you to build any kind of form you want on your Shopify, in minutes. Love it you shall.
How to create a form in Shopify?
Sign up for 123 Form Builder, install it on your Shopify site, and let our Shopify form generator do 99% of the work for you.
Create a Shopify custom form in three steps
Wondering how to create a custom form in Shopify? We have some awesome news for you:
It takes three easy steps to create a form in Shopify using 123 Form Builder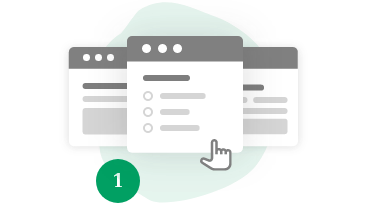 Choose a template or create a form from scratch.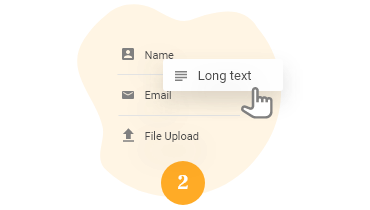 Customize it with your desired fields, rules, design, or email notifications, for example.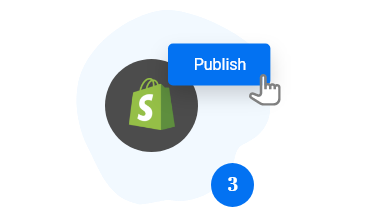 Publish it on your Shopify site and let the submissions roll in.
The ultimate Shopify contact form builder, code-free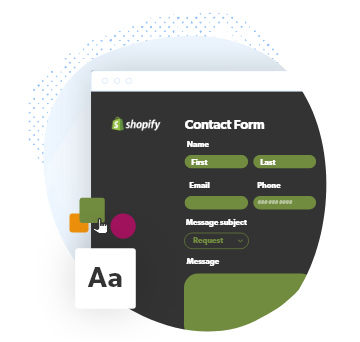 You know what the best part about 123 Form Builder is?
When you use our Shopify contact form app, you don't have to code a single line to create really amazing forms.
Like, awesome forms for Shopify. Code-free forms. In minutes.
Customize your contact forms to make it easier for your customers to find the right person on your support team to help them out.
Add your branding to your forms.
Collect real data from real people.
Because that's exactly what a good contact form does and 123 Form Builder is ready to help you build it.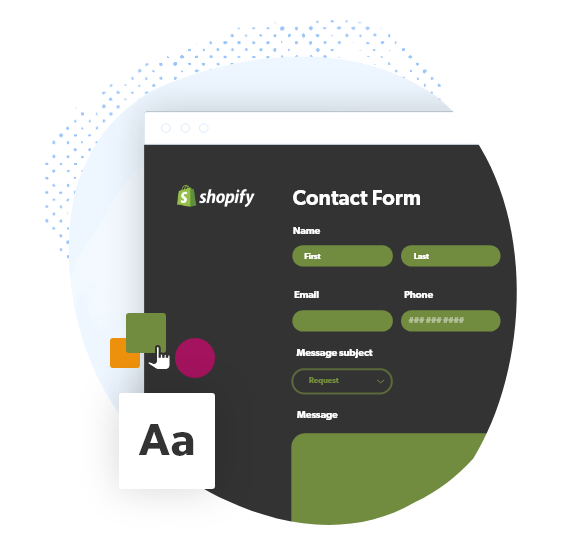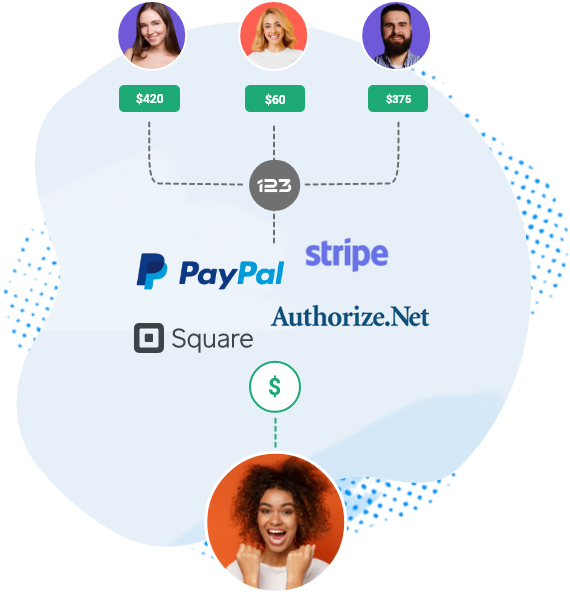 Build Shopify custom order forms and collect payments in minutes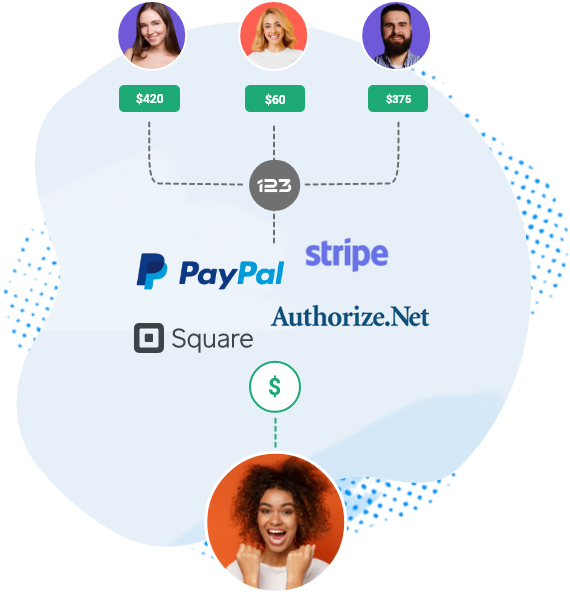 Looking for Shopify payment forms to collect orders and sweet, sweet cash on your Shopify site?
Say no more! Pick a custom order form for Shopify template or build your own order form from scratch and integrate it with one of the many payment processors we integrate with:
…and more!
Register customers on your Shopify site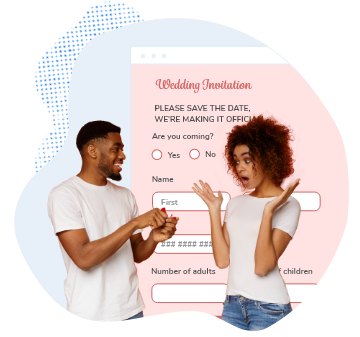 You don't want to go out with your customers on just one date!
You want to stay in touch with them. You want a second, third, date. You want a marriage of seller and buyer made in heaven.
And Shopify event registration forms or newsletter sign up forms can take you there!
Yes, of course, you'll be able to build forms and find true happiness with 123 Form Builder!
In three steps? Yep. In minutes and code-free? Absolutely. Integrated with your favorite email marketing provider, Google Calendars, Dropbox account and more of your favorite tools? Yes to all of that.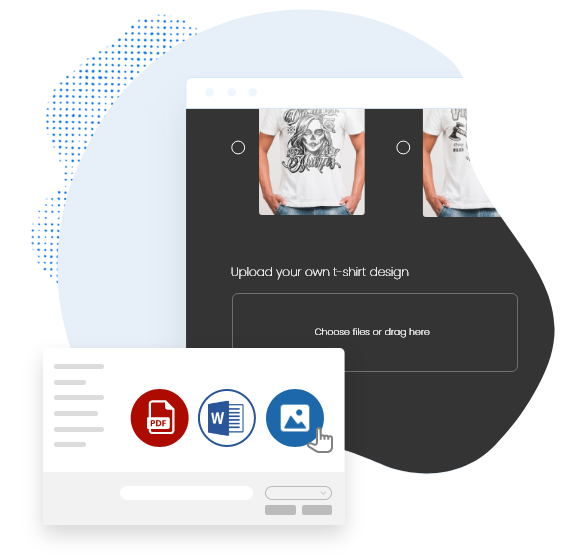 The best Shopify form builder with file upload
Hey, what would you say if we told you that 123 Form Builder can allow your customers to upload documents, PDF files, and pictures and send them right to you?
We think you'd say "hell yeah".
It takes a second to drag and drop a file upload field in your 123 forms. Click, drag, drop, done!
Our forms speak your language (and that of your customers)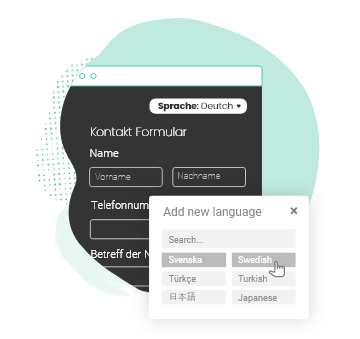 We like going global, it helps us feel cultured and cool. Plus, let's face it: nothing impresses people more than being fluent in three languages, right?
Therefore, if you want to publish your forms in multiple languages, leave this in our hands. 123 Form Builder does automatic translations in multiple languages, enabling you to speak the language of your customers too, just like we speak yours.
And, oh, by the way, our Shopify form app is available in multiple languages, precisely because we know how important communication is for you.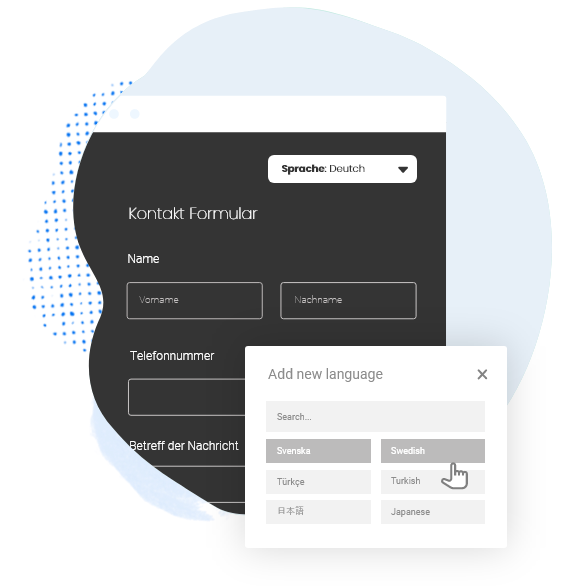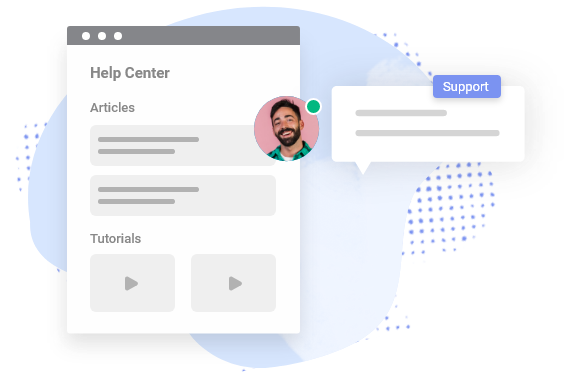 Stellar form building support when you need it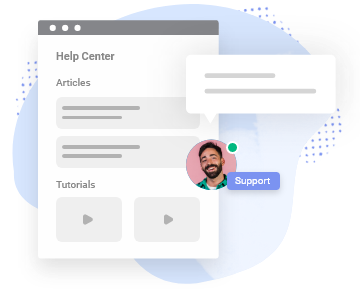 Our tool is really easy to use. Like, so easy a kid could use it and create data collection mechanisms that would make Joseph Marie Jacquard jealous.*
And yet, we know that things can get complex at times, so we're ready to offer you all the support you need. On email or in live chat, whichever way you prefer.
* Famous French person dubbed as one of the founders of information science for having invented a punch card system to control the cloth weaving loom operations sometime at the beginning of the 19th century.
Beautify your Shopify with fully customizable designs in 1,2,3 steps
Your forms are a channel of communication you open with your customers.
As such, you definitely don't want your forms to be ugly.
In 123 Form Builder, you can create pretty forms that speak about your brand, with actual humans (like, for example, you can create forms that only show one question per page to make the interaction between your customers and your form a little more human).
No coding, no heads banging into walls, no fuss. Easy to use design features that beautify your Shopify.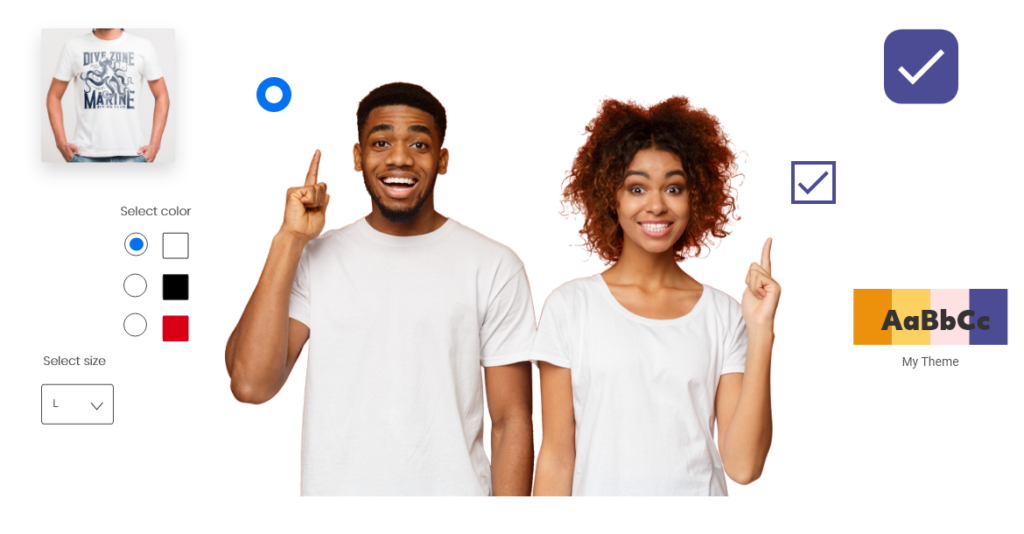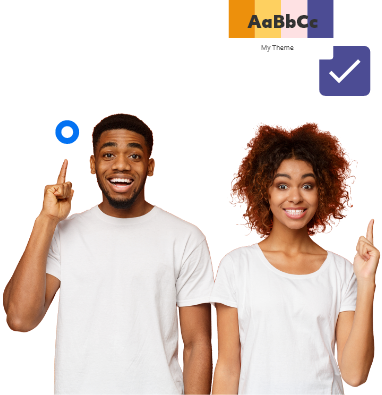 More than 2 million businesses and entities trust us already.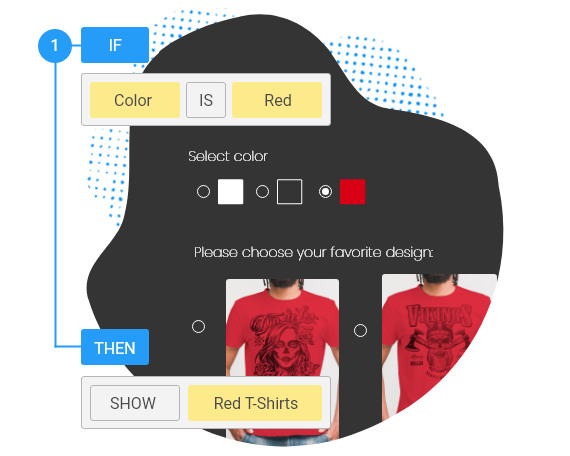 Conditional logic for interactive Shopify forms
We're massive fans of interactive forms because they make the customer experience feel more human, almost as if they're in a store and your staff are asking them questions.
Conditional logic rules allow you to create interactive forms easily. For instance, you could choose to only show certain fields when customers have selected specific options from your previous drop-down.
Just imagine how awesome this feature is for an order form, for example! Instead of listing all possible T-shirts on your site, you'll only show the "red" ones because "red" is what your customer has selected from a drop-down list. If that's not making it easy for everyone, we don't know what is!
All this makes for a custom experience your site visitors will definitely appreciate!
Form templates for every single need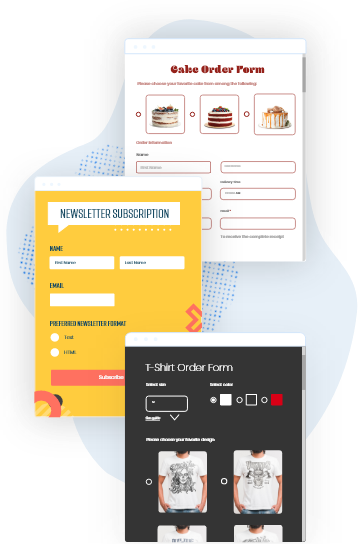 You don't even have to think too hard about how to create forms in Shopify with 123 Form Builder. For example, if you've been racking your brains on how to make a custom order form on Shopify, you might want to take a look at our order form templates.
We have more than 1900 form templates ready for you to use. If you want to create forms on Shopify, you can just grab one of our templates, customize it, and let your forms on Shopify collect the data, payments, and answers you need!
Some examples include:
We're the Shopify form builder app that can provide you with literally any kind of form you need. And all this, in just a few simple clicks. Surveys, order forms, quizzes, newsletter sign up forms — you name it, we have it.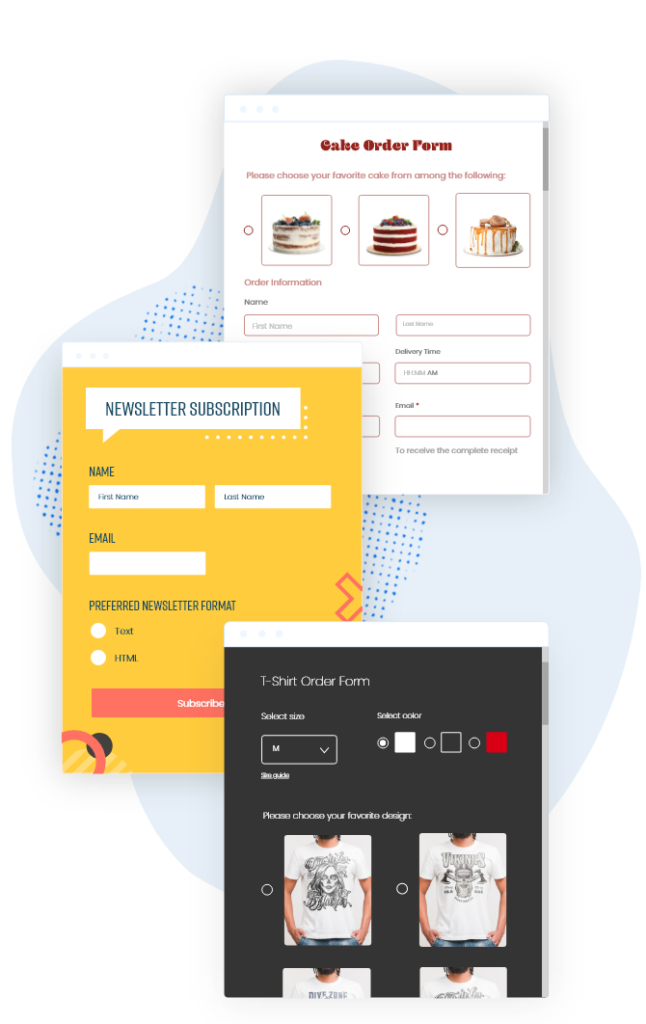 Connect Your Shopify Forms to your Favorite Tools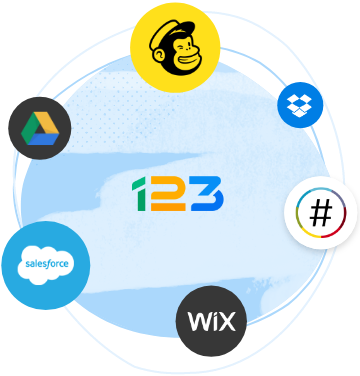 With 123 Form Builder and Shopify, your data goes where you need it. In seconds. Because you have better things to do than move information from one tool to another.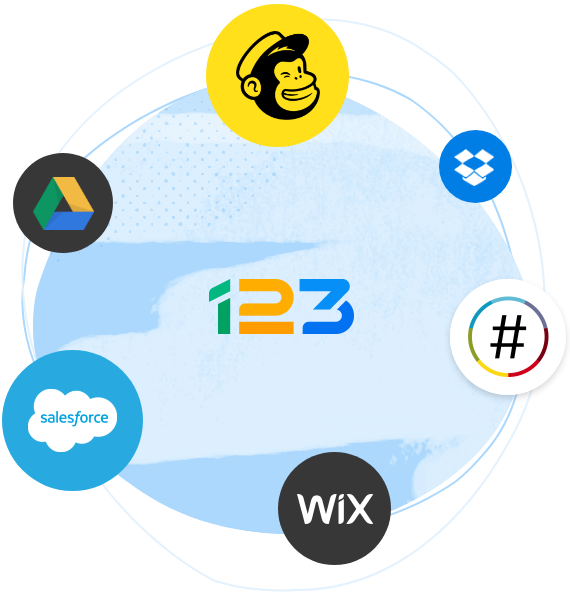 We're integrated with more than 80 other popular tools in CRM, CMS, project management, development, social media, email marketing, help desk, and more.
Basically, whatever other tools you might be using on your Shopify, you can easily connect them with your forms and let data flow seamlessly between your form fields and your other tools. Automatically. No copy-pasting, human errors, or blistered clicking fingers.
What tools are we integrated with, more specifically?
Some examples include:
…and * gasps for air * more!
We're easy to use from every point of view, that's why so many awesome people endorse us.
Collect Data from Your Shopify Forms, Securely
Data collection is important, but secure data collection is crucial.
You can't get away with shady stuff like everyone did in 2017. There are laws to protect data privacy now, and bodies entitled to make you legally liable.
Yikes!
But don't worry, 123 Form Builder is here to help!our forms and data collection are in good hands. Sure, you got your part of the deal to uphold, but when it comes to our form building tool on Shopify, you can rest assured we're:
And on top of everything, we're also HIPAA compliant, which means our forms can legally handle patient information in medical institutions in the US. As you can imagine, that makes us ultra-mega-uber safe.
Our employees are regularly trained to uphold maximum data security standards, our equipment is built to stay safe, and everything we do, we do it for you (and your data safety).