Drag & Drop Form Builder for Nonprofit Organizations
From donation forms to volunteer recruitment, 123FormBuilder has got you covered.
Well-functioning nonprofit organizations rely heavily on data collection and data management.
This is because an NPO is only as strong as the community behind it.
With 123FormBuilder, you can collect donations, run fundraisers, recruit volunteers, plan events and build any type of forms for nonprofit organizations, with drag & drop ease.
123FormBuilder strongly supports nonprofit organizations. NPOs benefit from a life-time 20% discount for any of our service plans. See pricing.
Create Non-Profit Forms and Surveys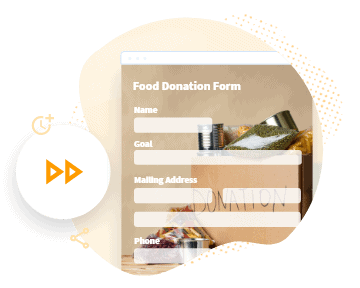 With our form builder, your NPO will be able to:
Create any type of form and survey by drag & dropping fields in a real-time editor, with no coding skills.
Use a wide range of fields, from the simple ones (like Name, Email, Phone) to the more complex ones (like upload fields, rating scales or digital signatures), and customize everything about them.
Set up email notifications and automated workflows, to trigger the right actions when submissions come in.
Collect all data in a central dashboard and manipulate it in various ways, generate visual reports or push data automatically to the other apps in your toolstack.
Build forms as easy as 1-2-3
Data collection and process automation is a breeze with 123FormBuilder.
Pick an NPO form template or create your form or survey from scratch. Drag & drop and customize the fields that you need.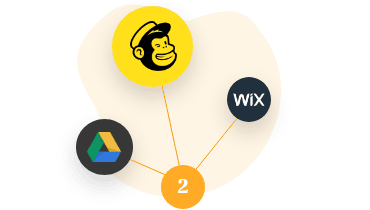 Integrate your form with your favourite tools, such as email marketing apps, CRMs and many others.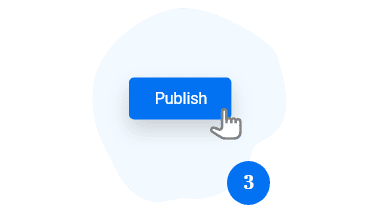 Take your form live and start collecting donations, signing up volunteers, and interacting with your community.
Collect donations for your nonprofit organization
Donations are the most straightforward materialization of the relationship between your nonprofit organization and its community of supporters. Therefore, the process that you put in place for receiving donations should be a seamless one.
With 123FormBuilder, facilitating the donation process is very easy. You can start off with a donation form template, customize its fields, specify donation amounts if you want to, and integrate the form with one or more payment processors, such as PayPal, Stripe or Authorize.net. Then watch the donations come in.
Plan and manage successful fundraisers
Fundraising events take quite some effort to be organized properly. You have to consider various aspects, from the theme of the event, to how you communicate with attendees prior to and after the event. Data management becomes paramount.
Our online data collection tool allows you to easily collect all of the necessary information, store it in a centralized dashboard, and use it to communicate with all of the stakeholders involved in a quick and effective fashion, through smart notifications.
Run online surveys and questionnaires
Running surveys related to your cause, in the outside world or within your community, is vital for keeping your actions relevant and your stakeholders happy.
Data-driven decisions are much better than gut-feeling decisions, and surveys can help you reach them easily.
Use 123FormBuilder to run your surveys and collect responses, then use our Reports section to analyze your incoming data and make better decisions that will help you do even more good for the world.
Organize online charity events
In today's world, charity events can be run not only in the offline world, but also in the online environment. There are many great conferencing tools out there that can help you run your events.
For the planning and communication part, 123FormBuilder comes in handy in a variety of ways. You can build event registration forms integrated with the participants' calendars. You can easily collect donations. You can send out automatically invites, reminders, surveys, and post-event thank-you messages. And do so much more.
Recruit volunteers through application forms
Aiming to recruit more volunteers for your charitable institution? Use our forms to collect applications and information about the people who want to help you out.
Like HBS Recruitment Services did during the Covid-19 crisis, for example, when they collected no less than 30,000 form submissions in less than 24 hours.
Application forms can be connected to approval workflows and route the application through the right people in your organization before a new member is approved.
Our website stayed up. The form stayed up. And everything worked. It was absolutely dreamy. It was really successful from our point of view, it was an incredibly successful project and I have no trouble saying the 123 Form Builder team played out of their skin on it. They were very proactive about keeping this right, making it happen.

Roy Finegan
HBS Recruitment Services
Conditional logic for interactive forms
Form branching allows you to create forms that adapt to the needs of your donors, volunteers, and respondents in general. Like, for example, showing donors a field only when they answer "Yes" to a specific question. Or showing volunteers only the fields that are relevant for the position they are applying for.
The options are unlimited, and conditional logic helps you organize your forms in a way that makes them interactive, logical, and easy to fill out. Conditional logic applies not only to the form structure, but also to Thank You pages and confirmation messages.
Form & survey templates for your NPO
We have more than 2000 form templates available for use. Pick any of them, customize it, and use it to support your NPO's good cause. Here are some example templates:
Integration with 10+ payment processors
Statistics show that, nowadays, many people choose to support a cause or another based on how easy it is to interact with the organization behind it. This is why NPOs should make it very easy for people to send donations online.
With 123FormBuilder, building a donation form is a very straightforward process, as well as connecting the form with payment processors such as: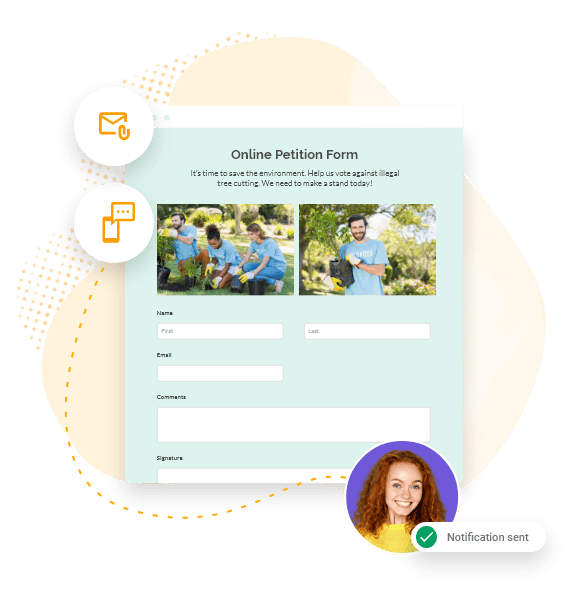 Productive communication through smart notifications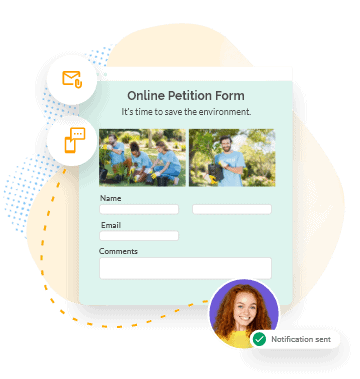 Want to stay in touch with your form respondents and donors? Simply set up a notification system to send email messages in various moments, like:
Right after somebody has filled our your form
When a new donation is received
Before your fundraiser, as a reminder
Email notifications can also contain attachments, such as PDF documents, to send out invitations, certificates or other materials. SMS notifications are also available.
Connect your forms with your favorite tools
123FormBuilder is integrated with a myriad of tools, from CRMs and email marketing apps, to project management or website building tools. This way, you can make sure that your forms and your data connect with the other apps that you use in your day to day activity.

Streamline your processes by integrating forms with apps such as:
Safe data collection for your organization
Data security is crucial for you and the people who choose to support your cause. That is why we have put in place a series of measures and systems that ensure the absolute security of the information collected through our forms:
We are 100% GDPR-ready.
We are HIPAA-compliant.
We are ISO 9001 and ISO 27001 certified.
We make it easy to avoid spam.
We regularly train our people to uphold data security standards.