Adult Adoption Form
This adult adoption form template is already complex. Yet, it can be easily adjusted with 123FormBuilder to match your specifics, then published on a web page. Of course, all of this without writing any code.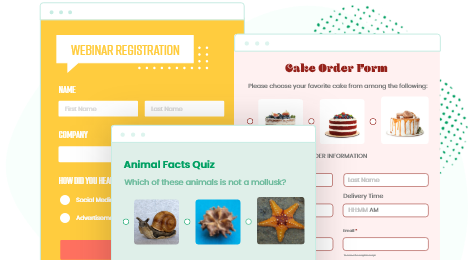 Template Features
Helps you build a job application in virtually no time
Helps you automate workflows in your company and reduce interdepartmental friction
Helps you generate useful data about your recruitment campaigns
Helps you connect your data and your tools in seconds
Extremely easy to use (you just grab it, customize it, and publish it).
Create a great Adult Adoption Form
Finding the right candidate for your position can be a challenge, especially when you receive a mountain of job applications. Luckily, a simple job application form can make your life easier and help you sift through the candidate pool efficiently.
A good job application form will help you collect all the info you need from candidates — from names and email addresses to their Word document resumes and any other detail you need.
The main benefit of a job application form compared to collecting CVs is ease of use: an online job application form will allow you to collect, filter, and manage data more rapidly and accurately, while a simple CV document will require a lot more manual work.
Creating an application form for your job openings will also make it easier for candidates to apply — increasing your chances of finding the one, the candidate who really fits all your needs.
You might think creating job application forms is difficult, but in fact, you really don't need anything other than 123 Form Builder. Our simple drag and drop form builder requires NO coding at all. All you need to do to create a job application form is:
Grab a job application template from our database (or you can create an online job application form from scratch if you prefer).
Customize your job application form by adding an email notification system, a custom Thank You page, conditional logic, or simply by personalizing the form design to match your brand.
Publish it anywhere: on your site, social media feed, or anywhere else.
That's it! Easy! Regardless of whether you choose to use a job application form template or create your own form, it will all take just a few minutes. 1-2-3 — and done! Now you can sit back and just let all those employment application form submissions roll in!
Free Online Survey Maker: Frequently Asked Questions
Is the survey service free?
Yes, the 123FormBuilder survey service comes with a free account option. You can create an account and start building your surveys without having to pay a dime. You can try the free version for as long as you want to and upgrade to paid versions for unlimited responses, unlimited questions, unlimited surveys, various advanced question types, and other features when you want to. No rush. The free version will always be free.
Do I need to sign up?
Yes, you need to sign up for a 123FormBuilder account in order to create and publish surveys. Creating an account is quick and easy, though. 
Can I create multiple choice questions?
Yes, you can create multiple-choice questions with 123FormBuilder. Simply add the desired question type from the left sidebar and start adding your options.
Can I customize the survey theme?
Yes, you can customize the survey theme to match your brand colors and style (no coding is needed to do this, by the way.)
Can I collect anonymous answers?
Yes, you can allow respondents to submit their surveys anonymously if you wish.
Can I add pictures and videos to my survey?
Yes,  you can add pictures and videos to your survey or add them by URL within the 123FormBuilder survey maker.
Can I create image questions?
Yes, you can create image questions for your survey in the 123FormBuilder survey tool. You can also create multiple-choice questions with an image representing each answer.  
How can I analyze my survey data?
Analyzing your survey data in 123FormBuilder is super-easy because you have an automated
Reports
section right in the 123FormBuilder dashboard. Our survey maker makes it possible to analyze your survey data in pie charts, vertical bars, and lines. You can also integrate your survey data with a third-party tool of your choice to analyze it further.
Can I integrate my survey results with other tools?
Yes, our free survey tool can integrate your online surveys with other tools. We integrate with more than 30 tools natively, as well as with Zapier (which gives you access to more than 4,000 apps you can connect to 123FormBuilder.)
Can I start with a survey form template?
Yes, we have ready-made survey templates for any need you may have. 
Can I create a survey from blank?
Yes, you can create your survey from blank too. On 123FormBuilder, you can set up the questions and design of your survey with drag-and-drop and clicks. 
How secure is my survey data?
VERY secure. We are ISO-certified, 100% GDPR compliant, and even have HIPAA-compliance features available on request. Our data is stored on AWS servers, and we maintain a very high degree of cybersecurity within the company as well. 
Can I see results in real-time?
Yes, you can see results in real-time as respondents take your survey in the
Submissions
section on 123FormBuilder. You can also check your
Reports
or the emails that arrive in your inbox after each response.
Can I email my survey to others?
Yes, you can email your survey to others directly from the 123FormBuilder platform. Each questionnaire that you build with our free survey maker generates a link that you can copy in your emails when sending them out to your target audience to fill in.
Can I randomize questions?
Yes,  you can randomize questions in our free survey maker. You can automatically change the order of available answers within a question after each new response. 
Can I add Likert scales to my survey?
Yes, we even have Likert scales ready-made survey templates you can choose from and a Likert scale field for collecting ratings of different statements in your survey 
How can I export responses? 
You can export responses by connecting your 123FormBuilder surveys with any tool you like, such as Google Sheets, for example. You can also export your responses to a CSV or PDF file with a click of a button within 123FormBuilder.
Can I add skip logic to my survey?
Yes, we have free skip logic features available for our surveys! You can show or hide specific questions based on what answer your respondent provides to a previous question, as well as redirect your respondents to a specifc web page upon completion. 
Can I generate pie charts?
Not only can you do that, but 123FormBuilder can do it automatically for you! You can customize the colors of your pie chart in any way you want and share it with your audience within minutes.
Can I A/B test my survey?
Yes, you can A/B test your survey. You can create two or more variants of your survey questionnaire and use a platform like Unbounce that includes AB testing to measure their performance.
Can I limit the number of responses?
Yes, you can limit the number of responses you get on your 123FormBuilder surveys. You can limit the number of responses by total or by IP address. You can also make the survey available in certain countries or create a list of countries the survey is not available on.
Can I personalize the thank you message of my survey?
Absolutely! Our free survey tool offers you multiple Thank You page options you can choose from and customize as you wish. On 123FormBuilder, you can personalize your survey thank you page with text, pictures, videos, or redirct respondents to your website.
Can I brand my survey?
Yes, you can brand your survey with your own brand colors, fonts, and designs with 123FormBuilder's survey tool options. 
Can I filter my survey data?
Yes, you can filter your survey data in our free online survey tool on 123FormBuilder.com.
Can I translate my survey into multiple languages?
Yes, our free survey maker allows you to automatically translate your surveys into multiple languages.