Online Quiz
This Online Quiz template was created to help you get started with your form quickly and easily.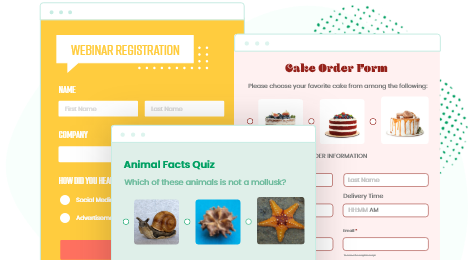 Quiz your audience with this easy-to-use quiz template by 123 Form Builder. Customize it with a simple drag-and-drop interface, type in your questions, provide multiple choice answers with images, and many more. Show the quiz score on completion, trigger partial answers, and send auto-replies by email. With 123 Form Builder, quizzing online is as easy as 1-2-3!
Customize Your Quiz, the way you want it
Personalize this online quiz template in any way you want. With 123 Form Builder, it's simple. Just sign up for an account and use the above template as you please. You can modify the questions and answers within the intuitive drag-and-drop editor and configure email notifications to receive the answers directly in your inbox. For more advanced functionality, you can assign points to each question, enable automatic grading, use partial answers, show the answers that have been missed after completion, and attach a countdown timer that will automatically finish the quiz after a number of seconds or minutes.
Enjoy a selection of Quiz options
123 Form Builder offers a multitude of publishing options for your quiz. To be specific, the easiest one is embedding the quiz on your website via JavaScript. It's a simple copy and paste of the code that we generate for you in the Publish section. Other publishing options include lightboxes and using the direct link of the quiz to share it with your friends, colleagues, or students over email. And this quiz template is mobile-responsive, so you don't need to worry about having it work on other screen resolutions. It's already taken care of.
Gather answers, easy and secure
Collect quiz answers securely and fast. In fact, with the automatic grading system, half of your job is done. Finally, view all answers in a dedicated database from where you can export them in CSV, PDF and Excel.
Build any kind of quiz from this template
With 123 Form Builder, you can create amazing online quizzes that speed up the data collection process. Each time someone will complete the online quiz, you will be notified by email or SMS immediately. So get the best out of online quizzes with 123 Form Builder.